Romania 2011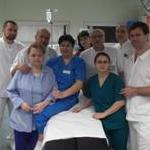 November 20, 2011 to November 27, 2011
The mission trip to Romania was a successful one for the participating surgeons and patients. In preparation for the mission, the staff in Romania specifically scheduled patients with complex cases to undergo surgery. Dr. Gabriel Tender, of Louisiana State University, eagerly accepted the challenge and performed one case each day over the five day period.
Each patient had a grade two spondylolisthesis (or forward slippage of one vertebral body with respect to the one beneath it) at L5-S1. The surgeon team successfully angled the NuVasive MaXcess® retractor during all of the surgeries and used NuVasive instruments and implants. Additionally, the team used CoRoent® large narrow/wide cages and bilateral pedicle screws (SpheRx® II).
During his time at the hospital, Dr. Tender invited several Romanian neurosurgeons to scrub in on each case, teaching them the most recent technologies and cutting-edge techniques. Prior to the mission trip, these surgeons may have addressed these difficult cases by performing an open surgery, potentially resulting in greater blood loss and lengthy hospital stays.
With the knowledge of minimally disruptive technology and procedures, the patients experienced shorter recovery times with minimal blood loss and reduced hospital stays.
The surgeons and patients were very pleased with the outcomes of the surgeries and were grateful for all the instrumentation NuVasive provided. Dr. Tender did a thorough job of educating surgeons and performing successful surgeries with his specialized expertise.
Professionally, this was a great experience working directly with the surgeons and assisting with post operation issues. The close working relationship I formed with the surgeons and the insights I gathered will greatly expand my knowledge base.