Sierra Leone 2011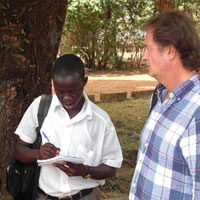 With help from the NuVasive Spine Foundation™, we have changed the lives of 16 spine patients in Sierra Leone since 2010.
I recently returned from our second mission in Freetown, Sierra Leone, which is one of the poorest countries I have experienced, and there are very limited resources available for spine surgery.
During the mission, five patients were treated, four of whom underwent TLIF procedures with posterior stabilization. The fifth was a 4-level cervical case.
During this mission, we had a lot of issues with canceled cases due to anesthesia problems, missing electric power, and sterilization problems. One of our patients also needs an additional surgical procedure with an expandable cage. Dr. Fekete will fly in again to perform this case five weeks from now.
I´m very thankful to have had this opportunity, and I´m very proud to work at NuVasive, who helped support this mission by donating products.