Medical Professionals
Volunteer for a Medical Mission Trip
Are you a surgeon or a spine-focused medical professional looking for a rewarding way to use your professional expertise to give individuals a second chance at life?
The NSF Medical Mission Program is rooted in three program locations: Honduras, Mexico, and the Eastern Caribbean. Each program site is led in partnership with a like-minded organization that allows us to provide comprehensive care to indigent patients in medically under-resourced regions. Our volunteers provide direct patient care to hundreds of adults and children each year, while working towards the long-term goal of developing sustainable spine care programs.

Each medical mission team is made-up of world-class spine surgeons, allied health professionals and general volunteers who are committed to providing patients with access to spine surgery, while removing cost and resource barriers. Patients are carefully screened by local social workers for socioeconomic need and receive surgery and related medical care, at no cost to them. NSF and its partners support medical mission trip related expenses (i.e., pre/post operative care, imaging, medications, OR supplies, hardware and spinal technology, team travel, etc.) Our passionate teams volunteer their time and expertise out of the sheer love of giving back and changing lives.
TYPES OF VOLUNTEERS NEEDED:
Our program provides a point of continuity for our medical mission partner sites; allowing us to bring medical volunteers from across the globe, on a recurring and frequent basis with maintained operational efficiency and patient impact. We work side-by-side with our partners, volunteers, and local health care providers to ensure we are providing the highest possible level of care for patients today– and tomorrow. Not every role listed below is needed for every trip, but in general, our program recruits the following:
Spine Surgeon (Ortho & Neuro)
Anesthesiologist/CRNA
Scrub Tech
OR Nurse/Circulator
Physician Assistant
Radiology Tech
Pre-Op/PACU Nurse
Physical Therapist
SPD Tech
NUVA Product Specialist
NUVA Neurophysiologist
Other? Please Inquire
THE VOLUNTEER OPPORTUNITY: 
If selected, you will join a team of 10-30 volunteers, all donating their time and expertise to change the lives of those who would not otherwise have access to this type of care and surgery. Use your medical skills and expertise to provide charitable spine surgery Help NSF build sustainable spine programs that serve their regions year-round Educate, collaborate, and empower local medical professionals

TYPES OF CASES:
Each program site has a set surgical scope based on the local infrastructure available. While we bring in volunteers, hardware and medical supplies, patient safety and the pre and post operative care available is at the forefront of our program. We travel to each of our sites 2-4 times a year and work closely with the local medical teams to follow the progress and care needs of our patients.
-Honduras: Adult Degenerative Spine Surgery – Outpatient Surgery Center
-Mexico: Pediatric Complex Spine Deformity Surgery – Hospital Setting
-Eastern Caribbean: Adolescent Idiopathic Scoliosis – Hospital Setting

COST:  
NSF is a nonprofit organization and funds its medical mission program 100% through fundraising. To help support our ongoing program expansion, we ask that volunteers donate and/or help fundraise a portion of their travel expenses. We work with each volunteer on an individual basis so that cost is never a prohibiting factor. Volunteers generally contribute on a sliding scale from $500-$1,500 for a week-long trip.
 
VOLUNTEER REQUIRMENTS:
We are looking for volunteers with a positive can-do attitude, who are willing and able to work with a team of individuals they may not know, but all value providing the highest-level of spine care possible.
-Must be 18 years or older
-Valid passport and/or visa
-Valid medical credentials and/or licensing for the role you are applying for
-Spine surgery and/or related experience
-Fully vaccinated for COVID-19 (+booster recommended)
-Able to take 7 days off of work and/or life responsibilities
-Able to withstand up to 90 degrees (Fahrenheit) without air conditioning, walk long distances and share dormitory style housing
-Willing to self-donate and/or fundraise a portion of your travel expenses
 
COVID-19: While international travel has resumed, we continue to monitor the global impacts of COVID-19.Your participation as a volunteer is subject to be postponed based on the recommendations of the NuVasive COVID-19 task force, CDC, and local guidelines at the time of travel. All volunteers are required to be fully vaccinated and are recommended to receive a booster (if eligible) at least 30 days prior to traveling.  You may be asked to provide a negative test, wear a mask, and abide by COVID-19 precautionary guidelines, as directed throughout the trip.  We appreciate your cooperation keeping the team and the local population protected.
About the Honduras Mission Program
NSF began its partnership with One World Surgery (OWS) in 2018 and was the first medical mission team to bring spine surgery to this region – 200 miles northeast of Tegucigalpa, the capital of Honduras. The primary focus of this location is adult degenerative spine surgery. NSF travels to Honduras three times a year and performs 20-30 surgeries and assesses 150-200 patients each trip.
The Honduran spine program is our largest and fastest growing medical mission trip location. The program is operated by NSF, with support from the incredible OWS team and local Honduran medical staff that operate the Holy Family Surgery Center. This mission is unique in that NSF recruits all the volunteer medical roles (surgeons, nurses, anesthesia, physical therapy etc.) needed to safely perform surgeries and assess patients in clinic.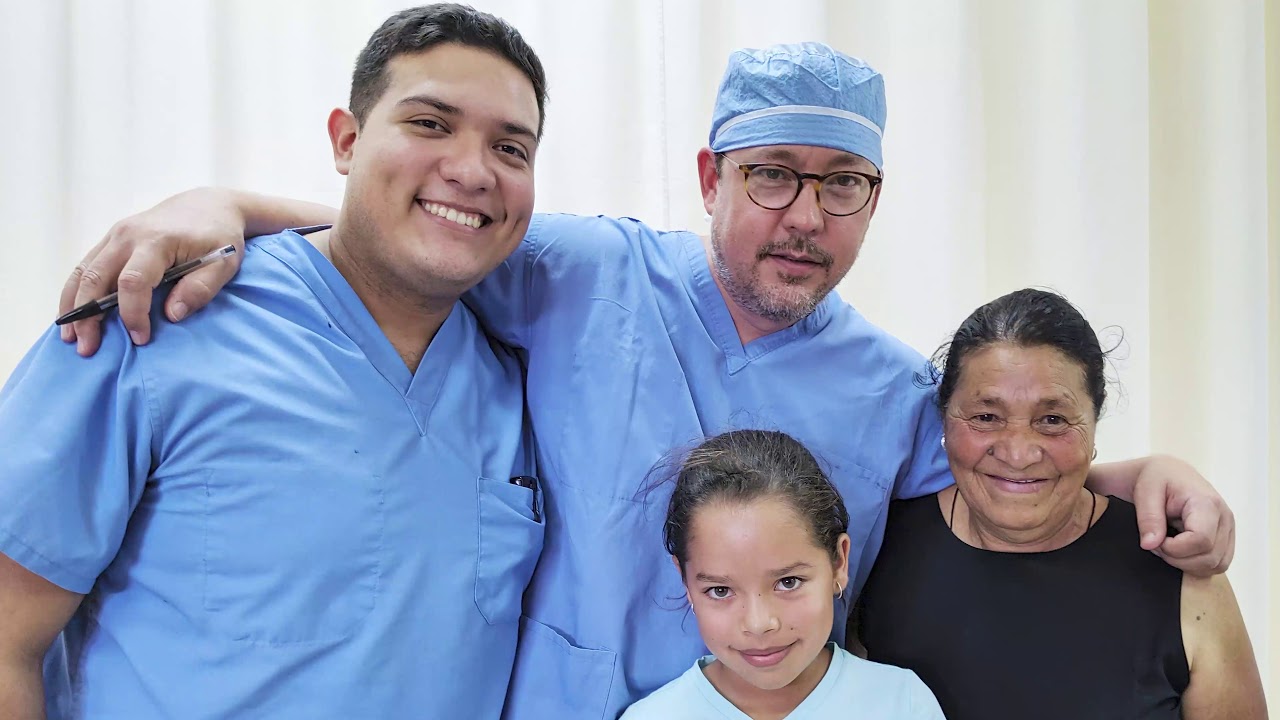 ---
One World Surgery funds and operates the Holy Family Surgery Center on the property of our partner, the children's home Nuestros Pequeños Hermanos (NPH). The 2,000-acre NPH ranch is located approximately one hour northeast of Tegucigalpa, the capital of Honduras.
Medical volunteers spend the majority of their time in the surgery center (OR and clinic), with time set aside to interact with the NPH children and enjoy ranch life.
For more information, please fill out the form above and/or contact: nsf@nuvasive.com