February 2015 Kenya Direct Mission: Patient Profile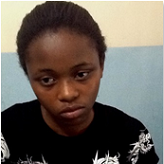 "I really want my back to be straight", Priscilla told our team. "After this surgery, I want to be able to socialize freely with other girls my age."
Priscilla, a fourteen-year-old girl who has suffered from low self-esteem due to her extreme scoliosis, was initially passed over for surgery during the NSF's February 2015 mission trip. Priscilla's mother first noticed her idiopathic scoliosis when Priscilla was 12 years old. For the next two years after her diagnosis, Priscilla's scoliosis worsened and she struggled with her self-esteem because of her deformity.
Surgeons Paul Glazer, Anthony Kwon, and Paul Tsahakis, along with NSF Ambassador Pitchou Malaba and local surgeons doctors Ombachi and Otieno were tasked with selecting 12 patients, out of more than 40 applicants, for surgery on day one of the Februray Kenya mission. Doctors Ombachi and Otieno explained that Priscilla would not be a candidate because her mother had been unable to come up with the $500 co-pay for the surgery. When Pitchou learned Priscilla was going to be turned down for financial reasons, he intervened on her behalf and opted to pay for the remaining amount.
"The NuVasive Spine Foundation doesn't exist to help people that can afford to pay for their surgery" said Pitchou. "The NSF exists to help people who have no means of paying for surgery. We are not going to turn Priscilla away." Having already been told that her daughter would not be a candidate for surgery, Priscilla's Mom was shocked to hear the good news. Dr. Kwon performed Priscilla's surgery with no complications, and one day after surgery, she was able to stand up on her own.
When Pitchou was back in Kenya in June 2015, Priscilla and her mom heard NSF was at Kenyatta National Hospital again and traveled over 300 kilometers from their village to visit Pitchou and the rest of the team to express their gratitude.  Priscilla's mom told us that when she heard NSF was back in town, she couldn't miss the opportunity to come and thank us.  She didn't know her daughter could be so happy.  She invited us back to her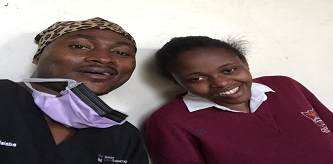 village to see the resident elephants!  Apparently, their village is visited by elephants to often that the only crop they can grow is tea, because elephants don't like the tea plant.
When Pitchou first met Priscilla she was extremely shy and withdrawn.  Now she was speaking to him with confidence, telling stories about school, confiding her dream to be a flight attendant, and even confessing that she has a new boyfriend.  Priscilla's back is now completely straight and she is taller than her mom!
15-NUVA-1056