Daveed Frazier, MD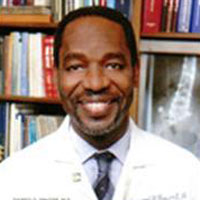 Daveed D. Frazier, MD is a board-certified orthopaedic surgeon with advanced training in spinal surgery and correction of spinal deformities. An assistant clinical professor of orthopaedic surgery at Columbia University College of Physicians and Surgeons and SUNY Downstate, Dr. Frazier is also a respected lecturer, accomplished researcher, and published author on spine disorders and treatment.
Dr. Frazier graduated cum laude from Harvard Medical School and joined the institution's long history of distinguished speakers when selected to address his 1990 graduating class. He went on to complete a Harvard (combined) surgical internship based at the New England Deaconess Hospital and a combined Harvard orthopaedic residency based at Massachusetts General Hospital. After his 5th residency year, he was chosen to be the chief resident at Massachusetts General Hospital.
Dr. Frazier's advanced training includes completion of the Eismont/Jackson Memorial Spine Fellowship (spine surgery) and a second fellowship, the Shufflebarger/Doctor's Hospital Spine Fellowship (spine deformity surgery) in Miami, Florida. Dr. Frazier is committed to minimally invasive spine surgery and has been instrumental in developing three successful spinal surgery centers in New York City and New Jersey.  More than 70 percent of his surgery is done through less invasive approaches, yet when open procedures are required he is well trained in advanced open techniques.
Outside the field of surgery, Dr. Frazier has excelled in many areas, one of the most notable being his involvement in Broadway shows. He has been an investor in several Broadway shows including Driving Miss Daisy with James Earl Jones and Vanessa Redgrave, A View From The Bridge with Scarlett Johanssen, and Deuce with Angela Lansbury. He has been an above line producer in several hit Broadway productions including Ghetto Klown with John Leguizamo, a show that began its world tour in October 2011. Dr. Frazier also produced a highly anticipated Broadway play written by Woody Allen and Ethan Coen and directed by John Turturro, called Relatively Speaking, which opened in October 2011.  He has co-produced shows with Alicia Keys and with Disney, and was nominated for a Tony award for Peter and the Starcatcher, a show he co-produced with Disney.
Dr. Frazier gives generously of his time and resources, supporting many charitable causes. His humanitarian efforts include service on the board of directors for FilmAid International—a charitable organization offering assistance to displaced persons worldwide through the power of film and media.  He's also committed to many non-profits including Creativity for Peace (bringing Israeli and Palestinian girls to a peace camp each summer in New Mexico), the Jazz Foundation, etc.
Dr. Frazier joined the Board of Directors of the NuVasive Spine Foundation™ in January 2011. He has been on several mission trips to educate local surgeons on spine surgery with less-disruptive techniques and met with important hospital administration as well as key local and national-level government officials.