Bill Walton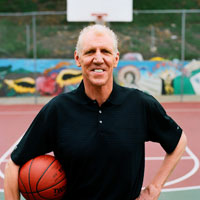 Bill Walton is a basketball Hall-of-Famer, an Emmy Award winning television broadcaster, an eXtreme Lateral Interbody Fusion (XLIF®) patient, and a spokesman for NuVasive® and The Better Way Back® program.
Walton is a San Diego native and lifelong resident. He is a former NCAA champion & Player of Year and an NBA Champion & MVP. Walton was a two-time NCAA champion at UCLA, playing for Coach John Wooden. He was named NCAA Player of the Year three times and is a member of the NCAA's All Time Basketball Team. Walton was the NBA's #1 overall Draft Pick in 1974 and was part of 2 NBA Championship teams. He was the NBA's Most Valuable Player in '77 and '78 and was the NBA's 6th Man of the Year in 1986. Walton is also member of the NBA's All Time Team as one of the league's 50 Greatest Players Ever.
Walton is one of only four players NCAA/NBA basketball history to have won multiple collegiate and professional championships. Walton is also the second of only five players in the history of the NBA to lead the league in both blocked shots and rebounding in the same season.
Bill Walton and his older brother Bruce are the only brother combination in the history of the world to have played in the NFL's Super Bowl and won an NBA championship. In addition, Walton and one of his son's, Luke, are the only father/son duo to have each won multiple NBA championships.
Bill Walton is in the San Diego Hall of Fame, the UCLA Hall of Fame, the Oregon Hall of Fame, the Basketball Hall of Fame, the Academic All America Hall of Fame, the Guinness Hall of Brilliance, and the Grateful Dead Hall of Honor.  He has also been named one of the Top 10 pundits in all of media, one of the Top 20 sports-business representatives around the globe, and one of the Top 50 Sportscasters of All Time.
After suffering from debilitating back pain for well over thirty years, Walton underwent the minimally disruptive XLIF procedure, performed by Dr. Steve Garfin, chairman of the Department of Orthopedics at the University of California, San Diego. Walton's personal understanding of the importance of life-changing back surgery is invaluable to pursuing the mission of the NuVasive Spine Foundation.